3. How landlords can help their tenants
As a landlord you are well placed to help your tenants understand Universal Credit and what they can do to ensure their housing costs are paid. Below are a few ways in which you can support and advise them.
For more ideas on how you can support your tenants, see the guide to Helping tenants with Universal Credit
Get ready for Universal Credit
You can prepare for Universal Credit by:
familiarising yourself with how Universal Credit works
considering whether adapting your policies or processes will help your tenants pay their rent on time
engaging with your tenants early to start assessing their needs, and making sure they understand their responsibilities and the support available
Claiming the right benefit
Direct your tenants to a benefits calculator to help them understand what benefits they could get. They will be asked to enter information about their circumstances, and it will tell them which benefits they might be able to apply for. One of those might be Universal Credit.
Prepare your tenants for Universal Credit
Landlords can help tenants to get ready for Universal Credit by encouraging them to:
Go online. Most people claim and manage Universal Credit online. If tenants don't have access to the internet or are not confident using a computer, the jobcentre can tell them about local services that can help.
Open an account that can receive payments. Universal Credit will be paid into a bank, building society or credit union account. The MoneyHelper service provides tips on choosing the right account
Set up a direct debit or standing order. Tenants will usually be responsible for paying their rent themselves. Setting up an automatic payment may help them pay in full and on time.
Consider budgeting support. Your tenants may be used to managing their money on a monthly basis, but if not they will need to make sure they can pay all their bills from their single payment. MoneyHelper's online money manager could help them make their money last longer.
Claim straight away. Some claimants delay making their claim because they think they will move into work quickly. You should encourage your tenants to claim as soon as possible to reduce the risk of their Universal Credit payments being delayed.
If you're a private sector landlord you can help your tenant's claim run more smoothly by making sure they have up to date evidence of their housing costs. They will need to provide this before they can receive any money towards their housing.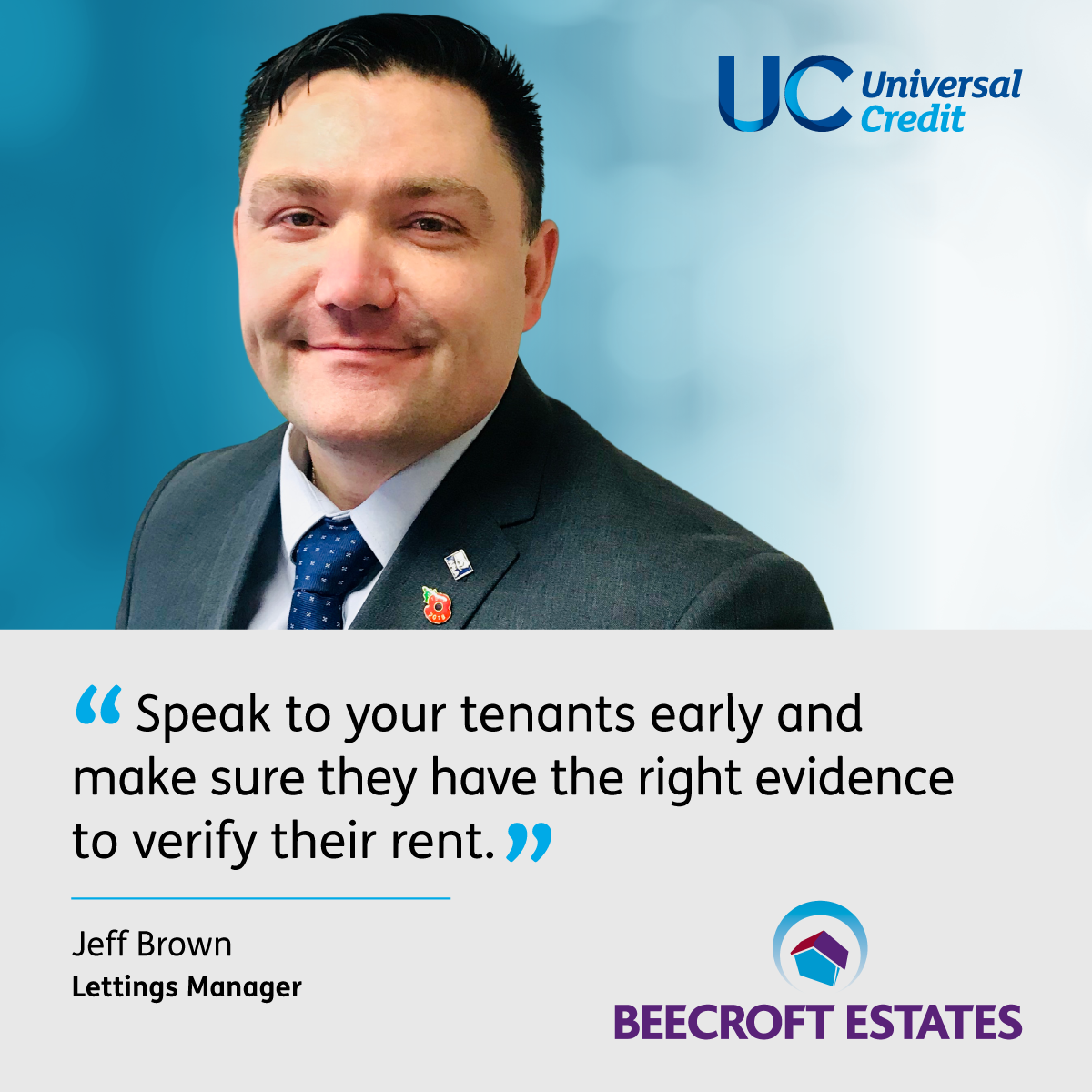 Confirm housing costs quickly
If you're a social sector landlord you will be asked to confirm your tenant's housing costs. Doing this quickly will help make sure there are no delays to your tenant's first Universal Credit payment, which will help you receive your rent payment on time.
Private sector landlords are not required to confirm housing costs – this is all done through the evidence the claimant provides.
Arranging rent payments
Claimants will usually arrange their own rent payments.
Universal Credit is normally paid monthly, on the same date each month. As a landlord you should think about how this will fit with your own payment calendars, and whether changes to how and when you collect rent would help.
You should also consider the level of support some tenants may need to make the successful transition to a single, direct monthly payment. In some situations it may be appropriate for their Universal Credit housing costs to be paid straight to you. This is known as an Alternative Payment Arrangement. In Scotland, claimants can choose this option themselves.
If you have previously received a managed Housing Benefit payment from the local authority, you will need to speak to your tenant to agree arrangements for collecting rent from them. Direct payments to a landlord will not be automatically put in place when someone moves onto Universal Credit.
Some claimants may be eligible for extra help with paying housing costs through discretionary housing payments or a reduction in their Local Council Tax.
Reporting changes
Claimants are responsible for telling the Department for Work and Pensions of any changes that might affect their Universal Credit payment. This includes things like annual rent changes, changes to service charges, separating from a partner, or a partner moving in.
If you know of changes that might affect your tenant's Universal Credit payment, you can help by reminding them to inform the Department for Work and Pensions. If incorrect Universal Credit payments are made because of delays in reporting changes, this may mean that later payments are reduced.