4. How and when you'll be paid
Your Universal Credit is a single payment that is paid monthly, although you may have to wait for around 5 weeks for your first payment. You may be able to get a Universal Credit advance if you are unable to manage during this period.
From 22 July 2020, if you are receiving income-based JSA, income-related ESA or Income Support, and either choose to claim Universal Credit, or a change in your circumstances means you need to claim Universal Credit instead, you may receive up to an additional 2 weeks' worth of those payments
If you are having trouble managing your money you may be able to be paid more frequently, such as twice a month.
Your Universal Credit payment is normally paid directly into an account in your name, such as a bank, building society or credit union account. This will need to be a current account, not a savings account. If you don't have one, the Money Helper Service website can help you choose the account that's right for you.
If you are part of a couple, living in the same household, and both of you are claiming Universal Credit, you will receive one monthly household payment. In exceptional circumstances a Universal Credit payment can be divided between 2 members of a household. This is known as a split payment. Contact Universal Credit or talk to your work coach to find out more.
You'll be able to view your payment details in your online Universal Credit account.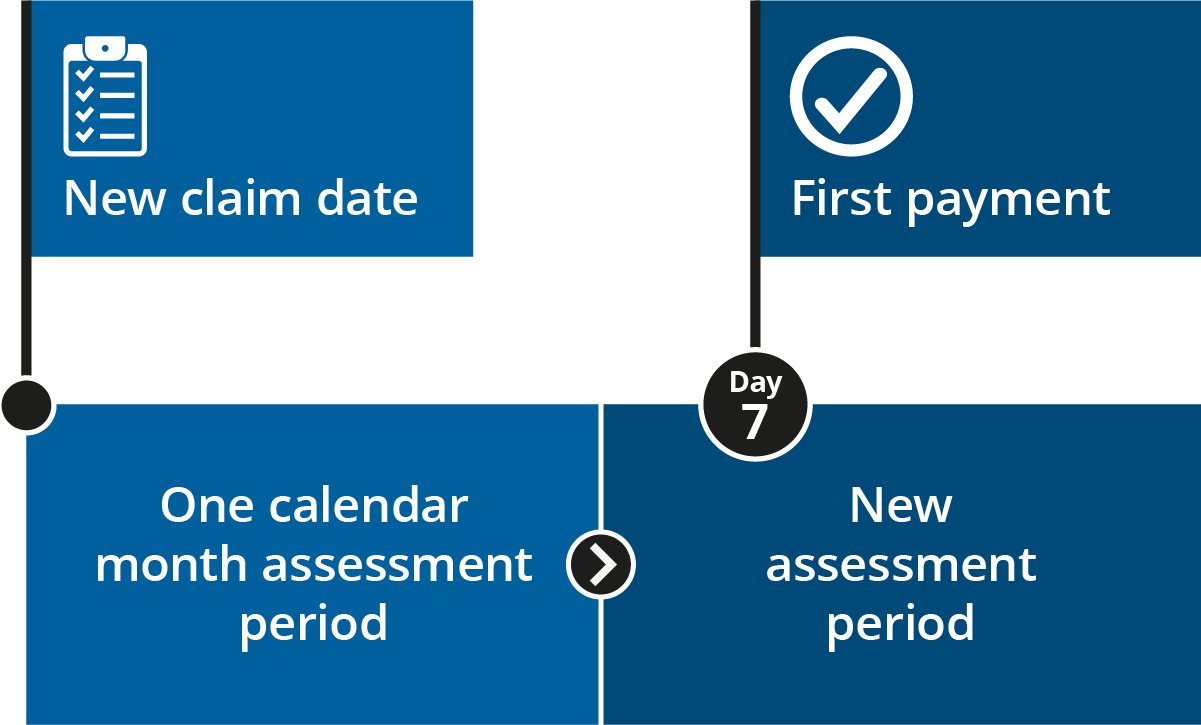 Assessment periods
Universal Credit is assessed and paid in arrears, on a monthly basis and in a single payment. Your personal circumstances will be assessed to work out the amount of Universal Credit you will get.
Your first assessment period will start on the date that you make your claim. The assessment period will last one calendar month.
You will usually receive your first payment 7 days after the end of your first assessment period. Universal Credit will then be paid on the same date each month. Your normal pay day will be fixed at 7 days after the end of your assessment period.
If your pay day is on a weekend or bank holiday you will receive your payment earlier – usually on the last working day before that weekend or bank holiday. If that would mean there is not enough time between the end of your assessment period and the day you are paid, the Department for Work and Pensions will take action to make sure you receive your payment on time.
The amount you get will not change to take account of different numbers of days in a month.
If your payment date is on the 29th, 30th or 31st of a month and the current month has fewer days, you will be paid on the last day of the month.
Example of an assessment period
The date of your new claim is 1 September.
Your first assessment period starts on 1 September.
Your assessment period then runs for a complete calendar month from 1 September to 30 September, with a new assessment period beginning on 1 October.
You will receive your first payment on 7 October. You will receive your Universal Credit payment on the 7th of each month after that.
Changes in your circumstances during an assessment period may change your payment.
If you live in Scotland
If you're making a new claim and live in Scotland you'll be asked if you want to get paid once or twice a month. You'll be asked about this after you've received your first payment.
If you're paid twice a month your first payment will be for a full month. You'll get the first half of your second month's payment a month after this. The second half will be paid 15 days later. This means there will be about a month and a half between your first payment and the full amount for your second month.
After this, you'll be paid twice a month.
If you live in Scotland and are already claiming Universal Credit, you can ask to be paid twice a month. Ask your work coach, use your journal or call the helpline for more information.
Example of payment dates in Scotland
You get your first payment on 14 December. This payment is for a full month.
If you're paid twice a month, you get half of your second payment on 14 January and the other half on 29 January.
You get paid on the 14th and 29th of each month after that.